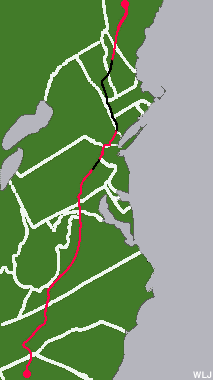 Red is what I've hiked. Black is what I have not.
Waldo's Trip Overview
OK, here's the deal. I'm hiking the Appalachian Trail. All 2,159.1 miles of it, from Springer Mountain, Georgia, to Mount Katahdin, Maine. From April 15th, 1996 'til...well...whenever I'm done. I hiked until August 1st in '96, when I returned home from West Virginia with a broken foot. After 6 weeks off, I began again on September 12th on Mount Washington, New Hampshire, skipping over 800 miles of trail. I'd decided to hike this northernmost section, from there to Mount Katahdin, the northern terminus of the AT, before the winter set in. Between Washington and Katahdin, I managed to break both of my feet, though I still climbed Katahdin on October 20th. I hiked another few hundred miles in 1997, doing West Virginia, Maryland and some of Pennsylvania. Then I broke two feet. A few weeks later I did from Delaware Water Gap, PA to Bear Mountain Bridge, NY, by which time I'd broken another two feet. Then, in 1998, I headed out for a marathon half a week and did one of the rockier portions of Pennsylvania, breaking, thankfully, only one foot. I think. (I stopped seeing doctors. They always said the same thing: "Well, Waldo, you seem to have broken your feet. You really shouldn't hike." So forget 'em.
I headed out again in 1999 to do what I had left of New York, which just took a few days, and came within spitting distance of the border.
Sometime this year, should time allow, I'd like to finish up Pennsylvania, and perhaps even Connecticut and Masschusetts.
I was diagnosed with Meniere's Disease in December of 1997, which makes my hiking life all the more interesting. Ironically, for safety reasons, I have to carry a cellular phone hiking with me now.
I'm doing this like most folks, sleeping outside in a tent or shelter at night, hiking a dozen to twenty-five miles a day, carrying a big ol' backpack. The difference is that I've got a laptop and a cellphone. Throughout the hike, this page is updated frequently with new journal entries and photos.
Yeah, it's a lot of extra weight. And, yes, I'm the first person to update a website from the trail. A brave couple hiked from Georgia to West Virginia last year, the Kushmans, that updated a web site with journal entries every week from motels. And there was a group that hiked in 1995, a bunch of journalists (An Appalachian Adventure, they called it), that also updated a page every week with journal entries and photos, though I believe they mailed in their entries. And in 1997, there were quite a few people (dozens) updating websites by snailmail, and a few brave souls updating sites from laptops they have with them. It's nice to know I've helped start something.
Below paragraph originally typed February 1996:
I'm updating every few days, and I'm doing online video and text teleconferencing. It's a first. And I have goals. I don't just want to get to Maine. It'll be great if I do, but if I don't, hey -- life goes on. I want to get you (yes, you) to realize the value of our parklands. They're cool places. Let's keep 'em like they are. Say no to power lines and deforestation. Vote as such, it'll be a better country. So, as I hike, I'll have a sort of an eco-bent, trying to keep you updated as to the conditions of the parks as I hike through them. And remember, if you're going to use the Appalachian Trail, be sure to pay your dues to the Appalachian Trail Conference.
Now, remember, I'm not the only person hiking the AT. There are a few thousand of us. I'm just the one with the web page. If you've got any questions about this trip, please feel free to e-mail me. Thanks, and remember to link to my site if you like it!
-Waldo L. Jaquith
---
About Waldo
I hate those pages where the guys tell you about how cool they are and include fuzzy little .GIFs of their pimply yearbook photos. (But the prom photo ain't much better. Sorry) I'll keep it brief.
I live in Charlottesville, Virginia. I originally lived in Columbia, Maryland. I'm 6'4" with brown hair 'n' brown eyes. I've got a personal web page you can check out. When I'm not walking to Maine,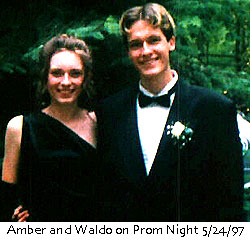 I hang out at Higher Grounds, Chaps Ice Cream and The Mudhouse. My beautiful girfriend of nearly 3 years, Amber Capron is my age and also lives in Charlottesville.
I cycle around C-Ville on my Bianchi Premio, rail-slide on my Bravoblades, harass City Council, educate myself, dig fedoras, work as a barista, hate when people who ask me to decaffeinate their coffee, think aardvarks are neat, am willing to say 'neat', am looking for a college that digs guys like me (Harvard, MIT and UVa all turned me down), am willing to say 'dig', volunteer at Live Arts Theatre, juggle fire, love The Downtown Mall, design websites, study Egyptian Heiroglyphics, am a computer geek, groove on anything from Dave Matthews to Ani de Franco to Navel to Stan Getz to Babylon Sound to Mozart to Daniel Ash to whoknowswhatelse.
I will someday be mayor of Charlottesville.
If you have anything else you'd like to know, just ask.